Hi there, and welcome to Birb!
Discover & experience the exciting Birb Ecosystem
Enjoy Stunning Birb NFTs with Rich Functionality
Private Transactions, E-Commerce payments, and more.
Have you claimed your
Birb 2.0?
Migrate your old BIRB tokens to the latest BIRB token using our claim portal.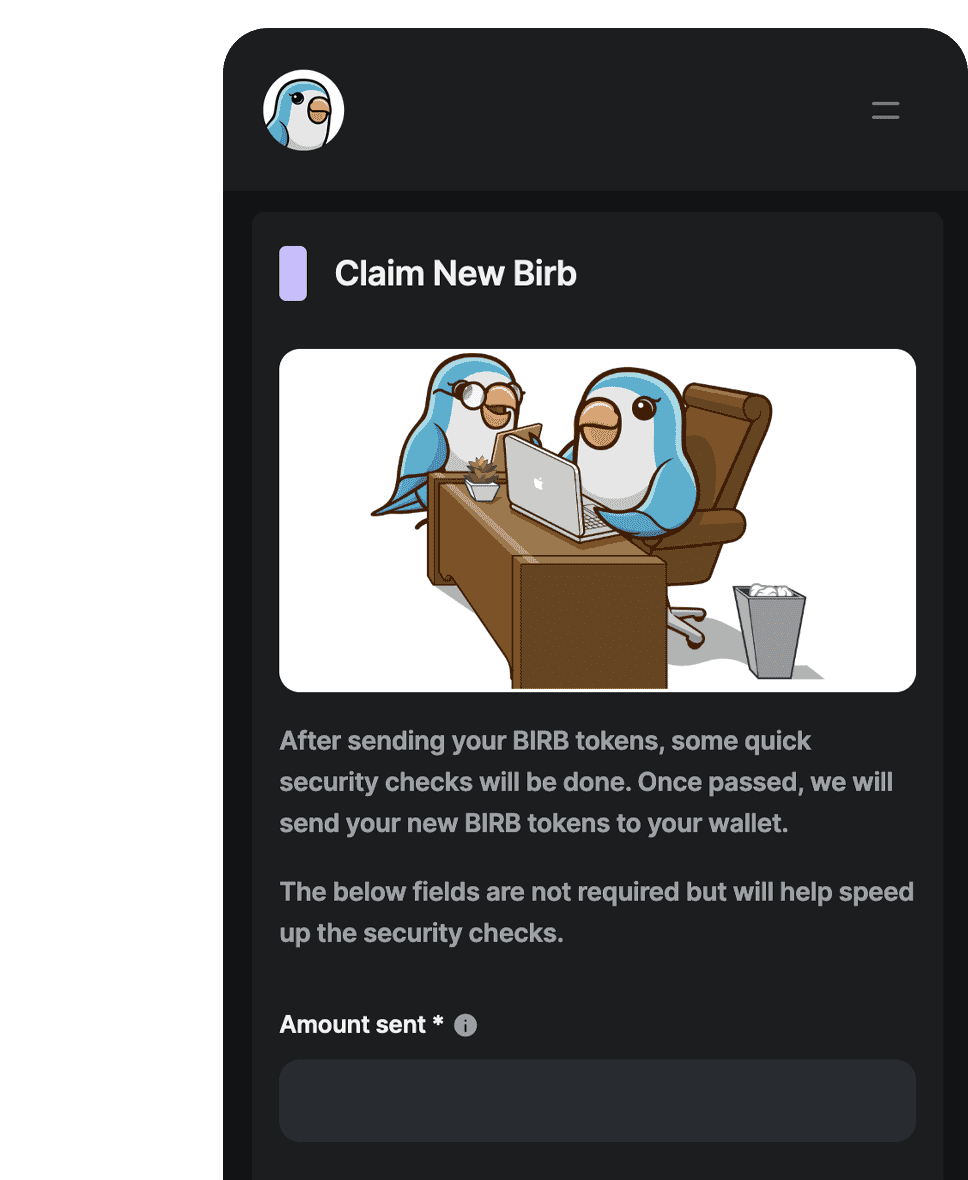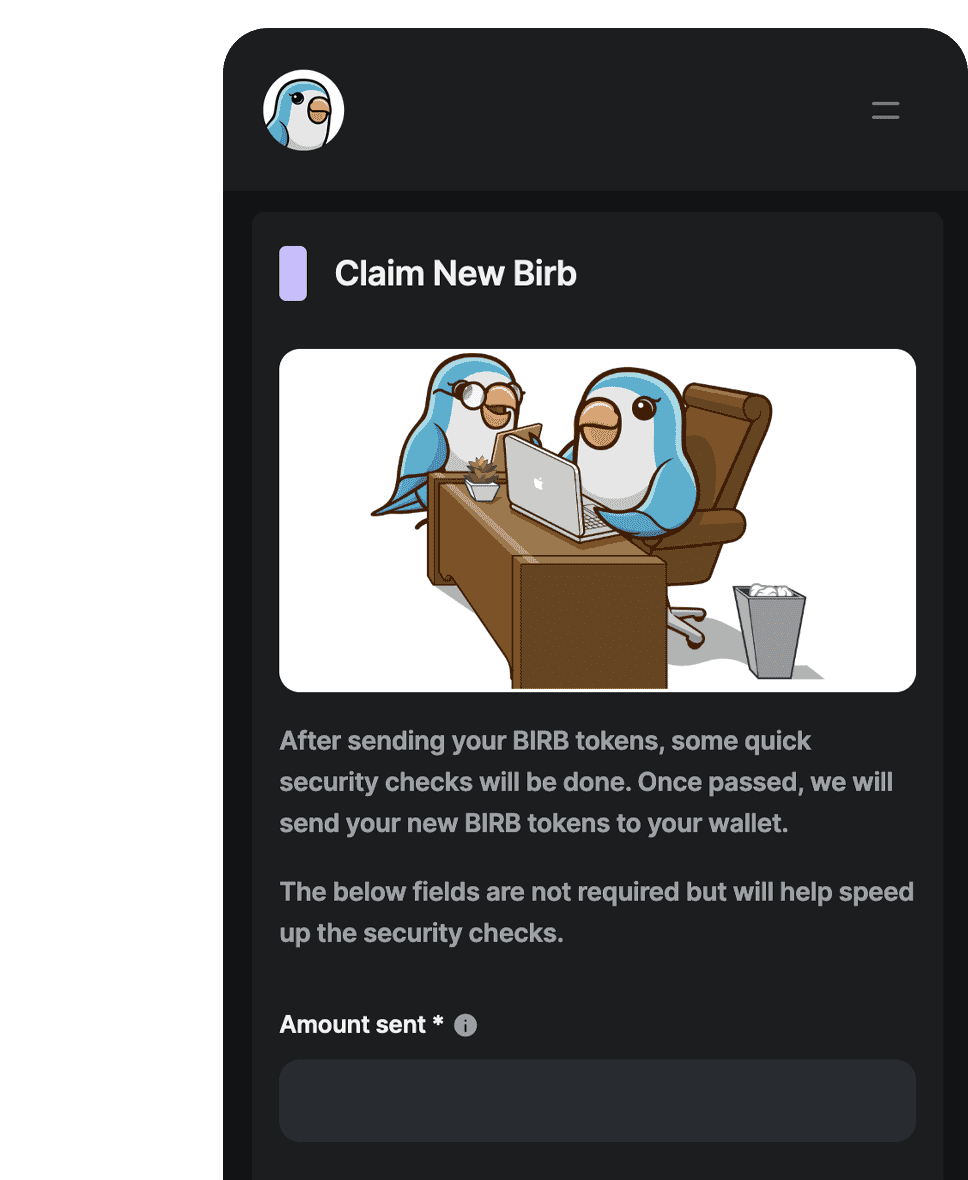 Some of our powerful features
Birb has a hard-working and dedicated team working to make Birb a project with many use cases.
The Future of Content Creation
Unleash Your Creativity with Our Intelligent, All-in-One Platform
Captivating Visuals

with BirbAI

Elevate your content by generating mesmerizing, one-of-a-kind visuals using BirbAI. Our cutting-edge technology crafts images that not only enhance your storytelling but also captivate and engage your audience like never before.

Visit BirbAI
Revolutionize Content Creation and Editing
Discover limitless possibilities with our robust templates designed for crafting Tweets, press releases, blog articles, stories, and so much more. BirbAI empowers you to produce unique, intelligent content effortlessly with just a single click.
Unlock the Full Potential of BirbAI as a SaaS
Experience the unparalleled convenience of BirbAI as a Software as a Service (SaaS) platform. Choose between our free version or unlock the true potential of our advanced features by subscribing to our premium plan. Embrace the future of content creation with BirbAI.
Seamless Cross-Device Accessibility
We at BirbAI recognize the importance of mobile and responsive design. Our platform adapts seamlessly to any device, be it a desktop, tablet, or smartphone, ensuring a smooth user experience. Create and edit content anytime, anywhere with BirbAI.
Explore Birb's Exciting Extras
Unlock a World of Possibilities with Ever-Evolving Features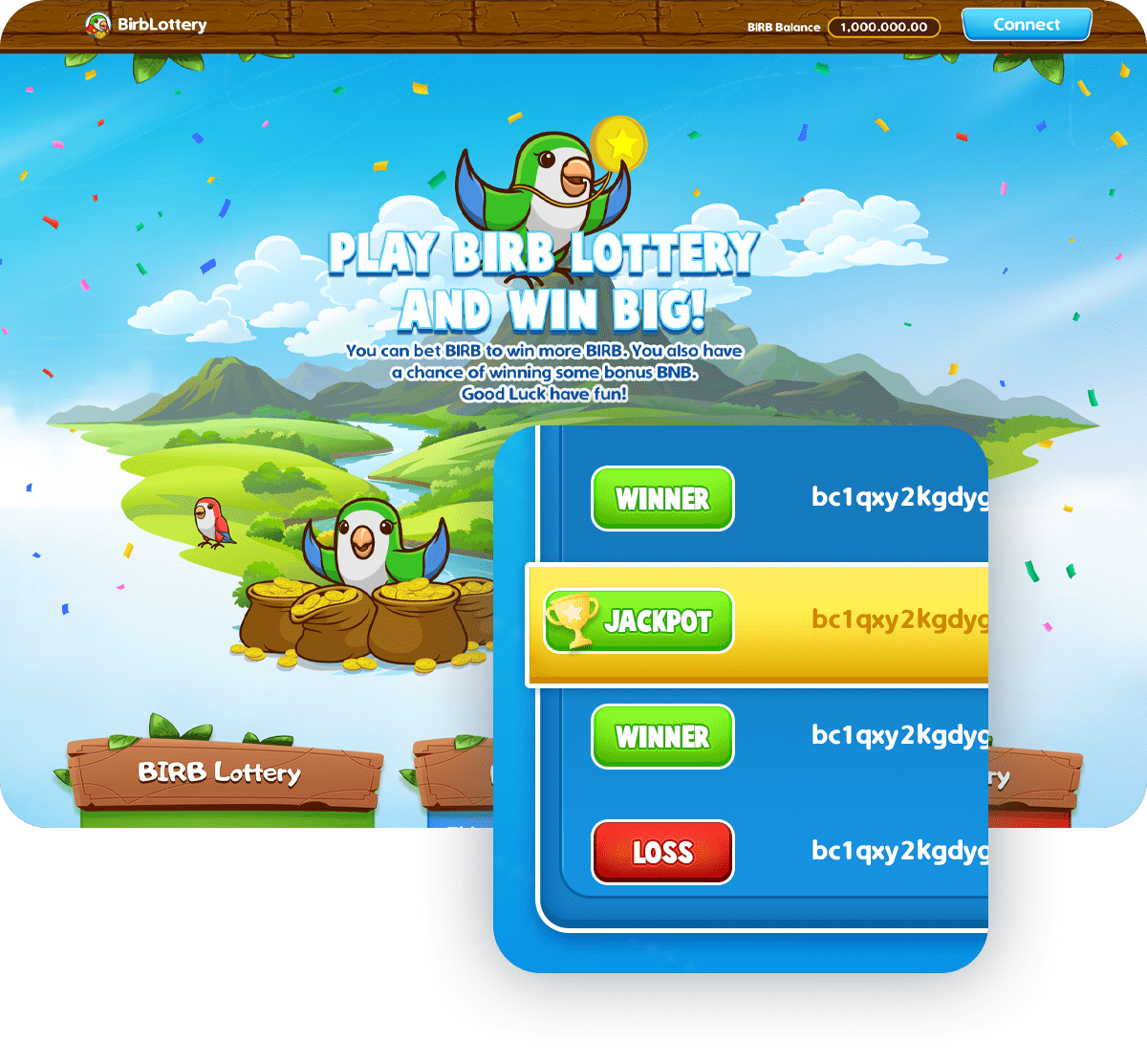 Available
Hit the Jackpot with Birb Lottery
Discover our thrilling 3-in-1 Birb Lottery games and seize the opportunity to win BIRB tokens. Each game offers the chance to hit massive jackpots, with one even featuring a BIRB token burn in every round.
Our lottery system is powered by an off-chain oracle and ensures absolute fairness and unpredictability. Dive into the exciting world of Birb Lottery games and immerse yourself in the fun.
Play now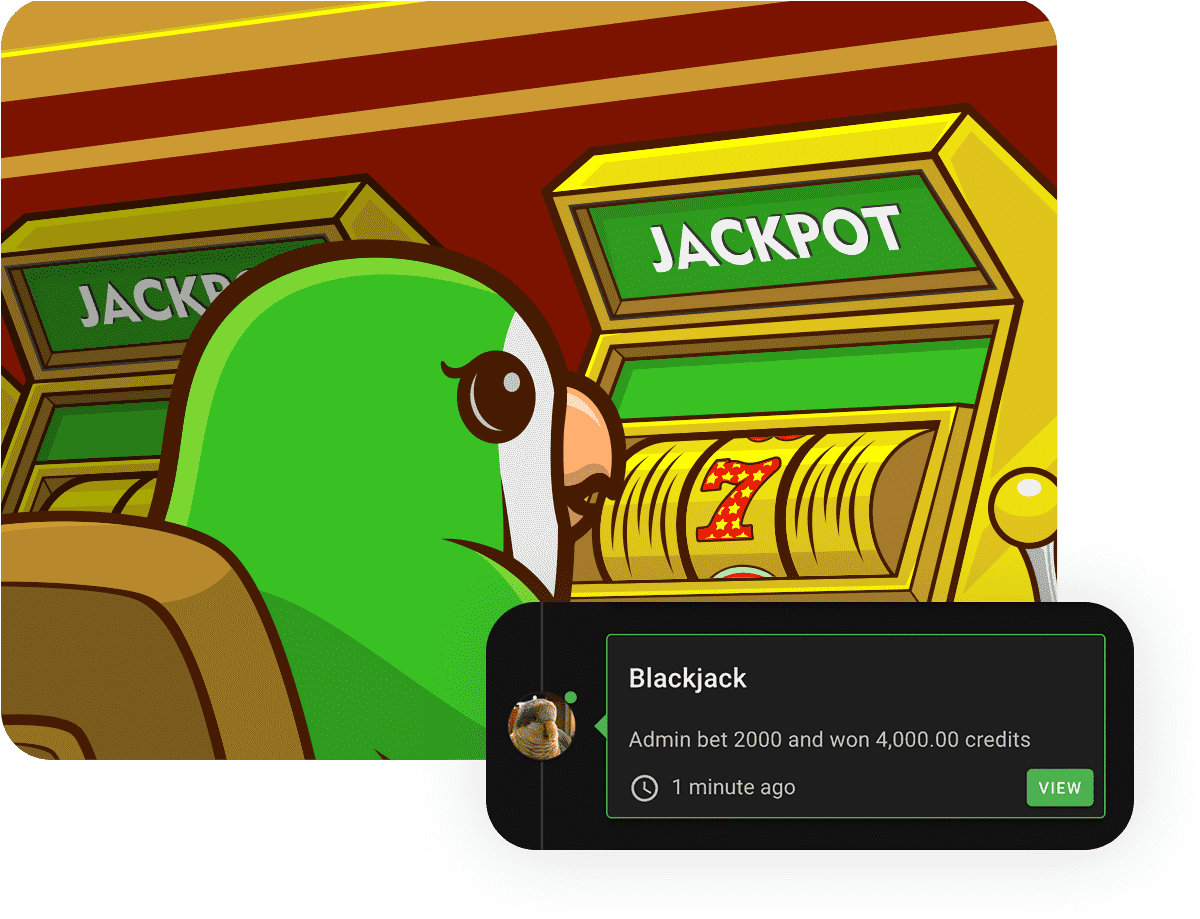 Available
Birb Games
Play casino games such as slots, poker, blackjack, and roulette! You can deposit, withdraw and play with BIRB tokens. Play now for a chance to win!
Play now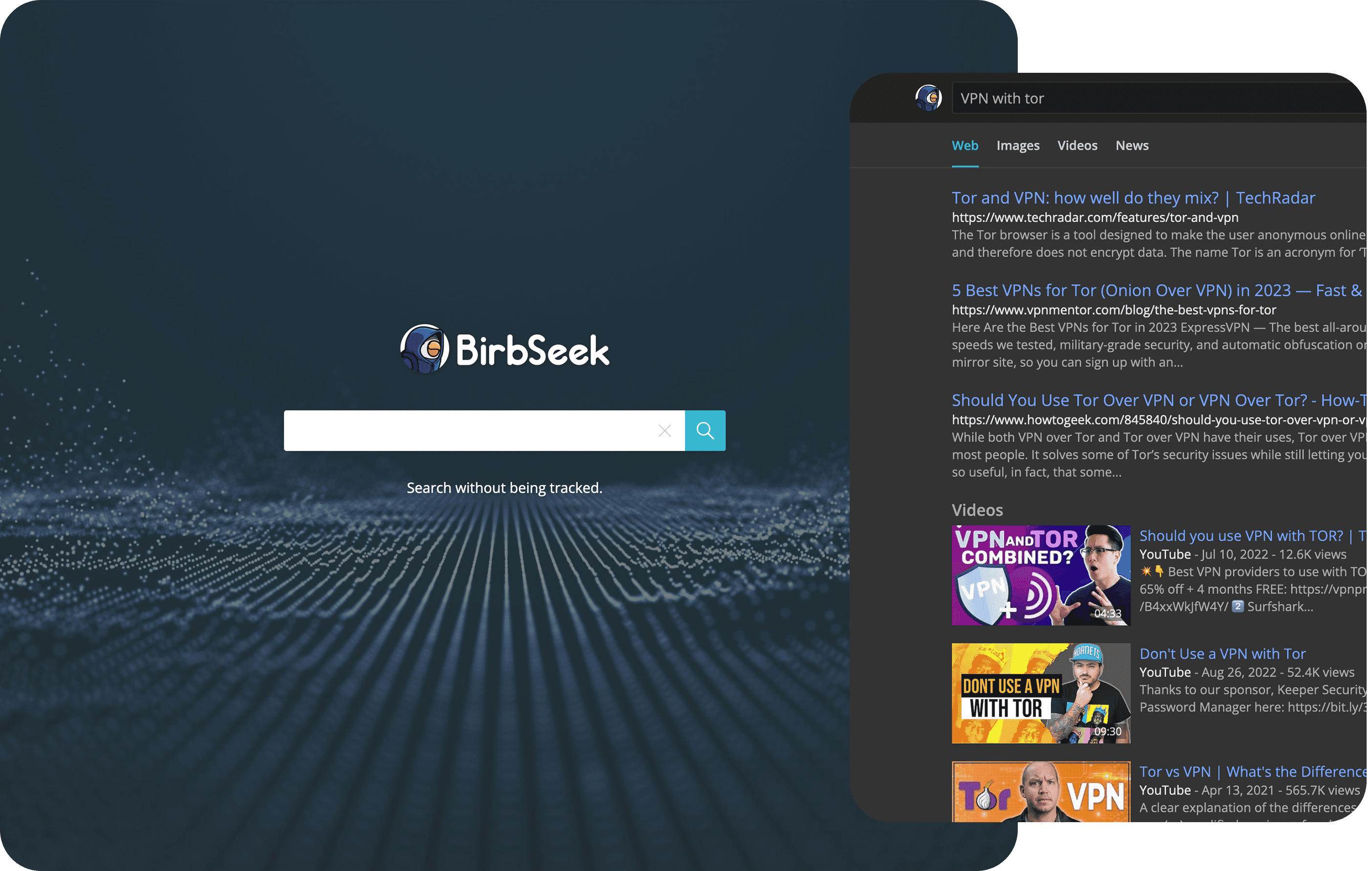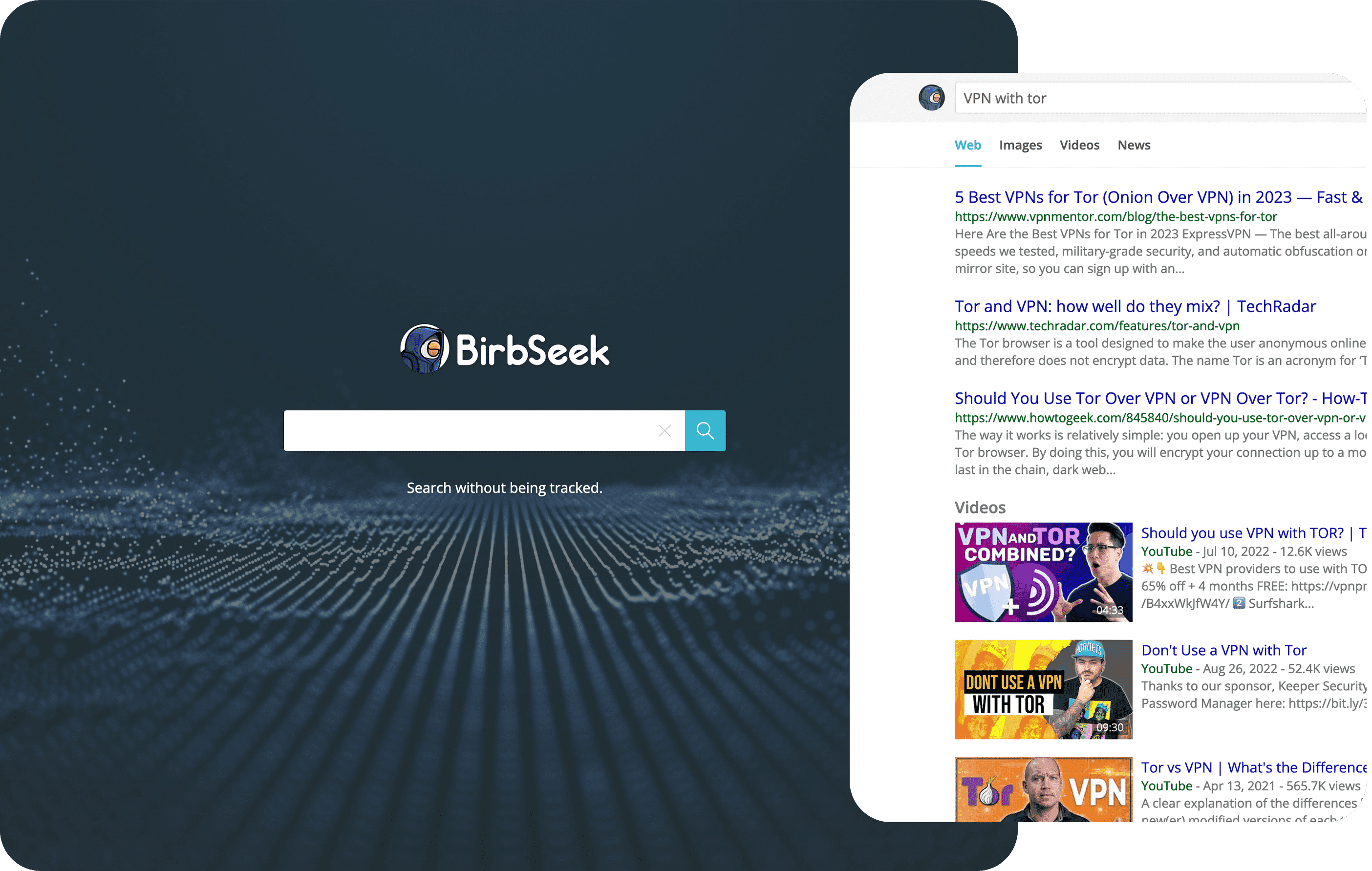 Available
BirbSeek Private Search Engine
We are excited to introduce BirbSeek, a privacy-centric search engine marking the beginning of our multi-phase development journey. Our ultimate vision is to create a Tor-compatible browser with a built-in BIRB wallet, integrated with Flock protocol and featuring BirbSeek as the default search engine for a secure browsing experience.
Visit BirbSeek
View Video
A powerful portal for our web apps
We are hard at work on rebuilding each web app into our portal.
Visit the portal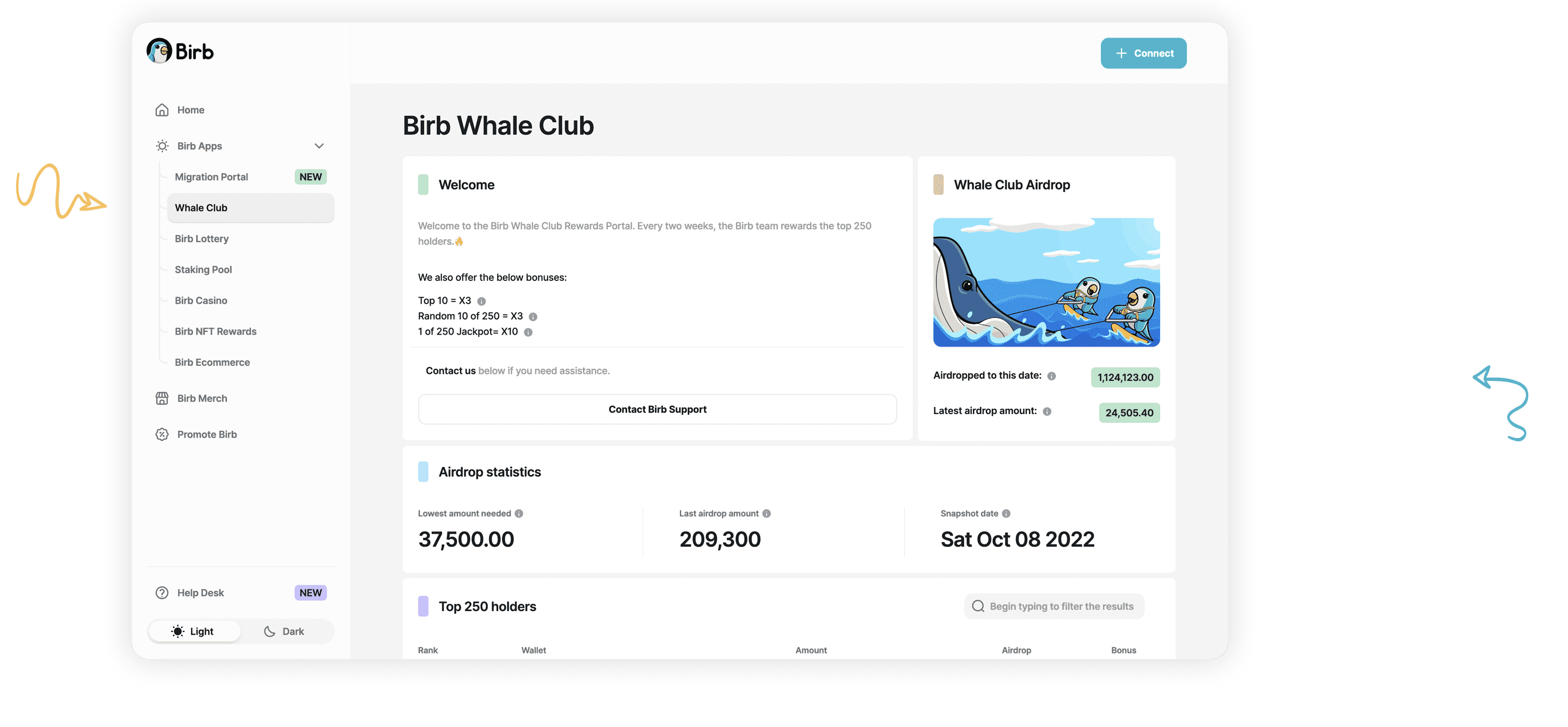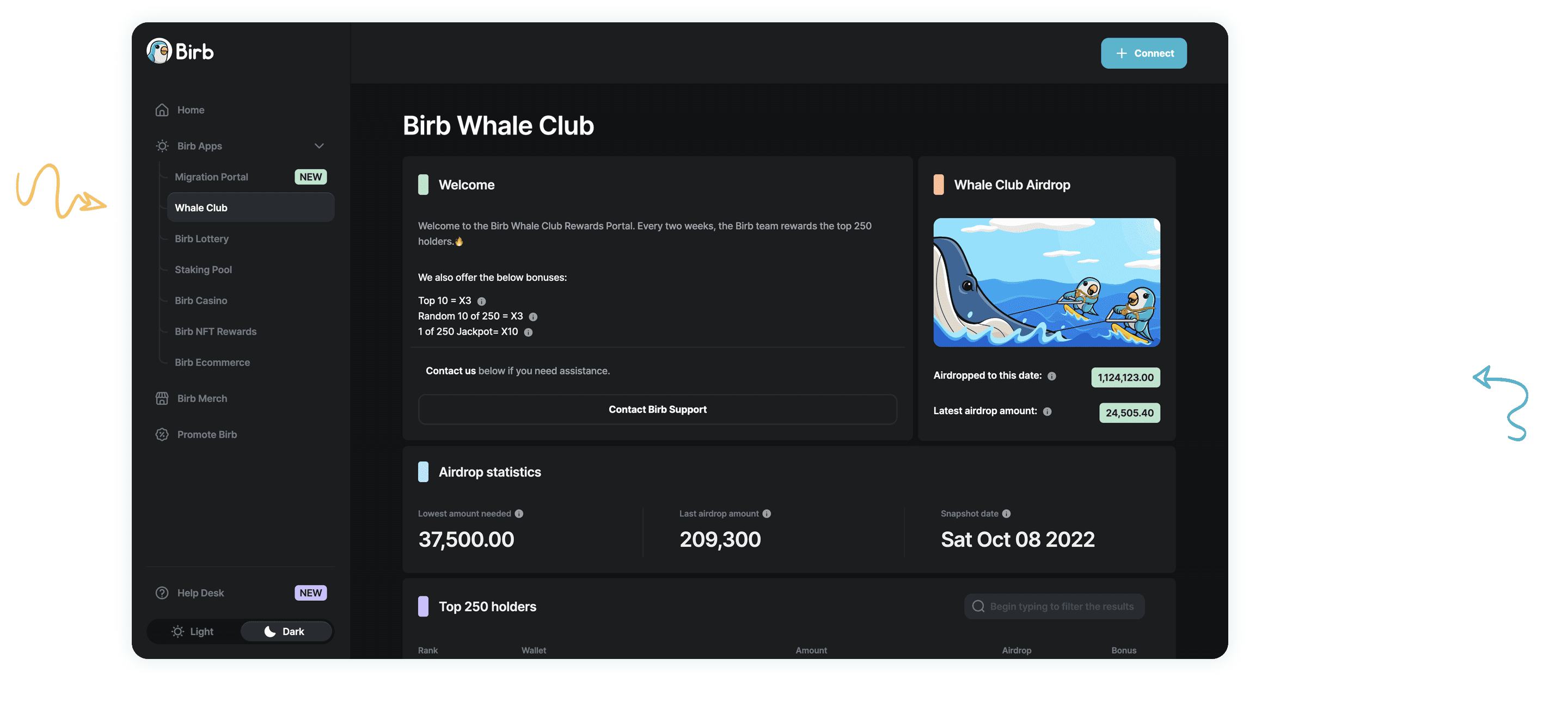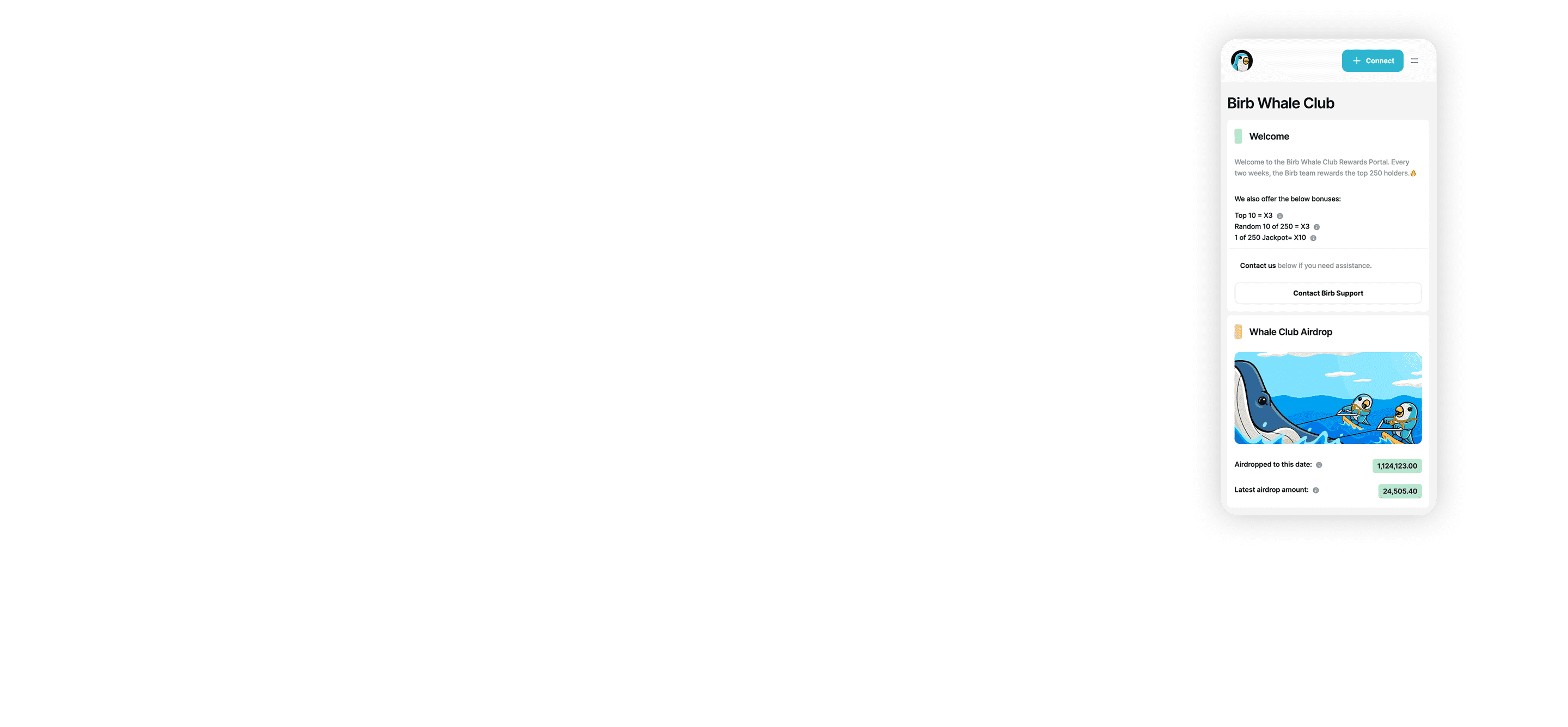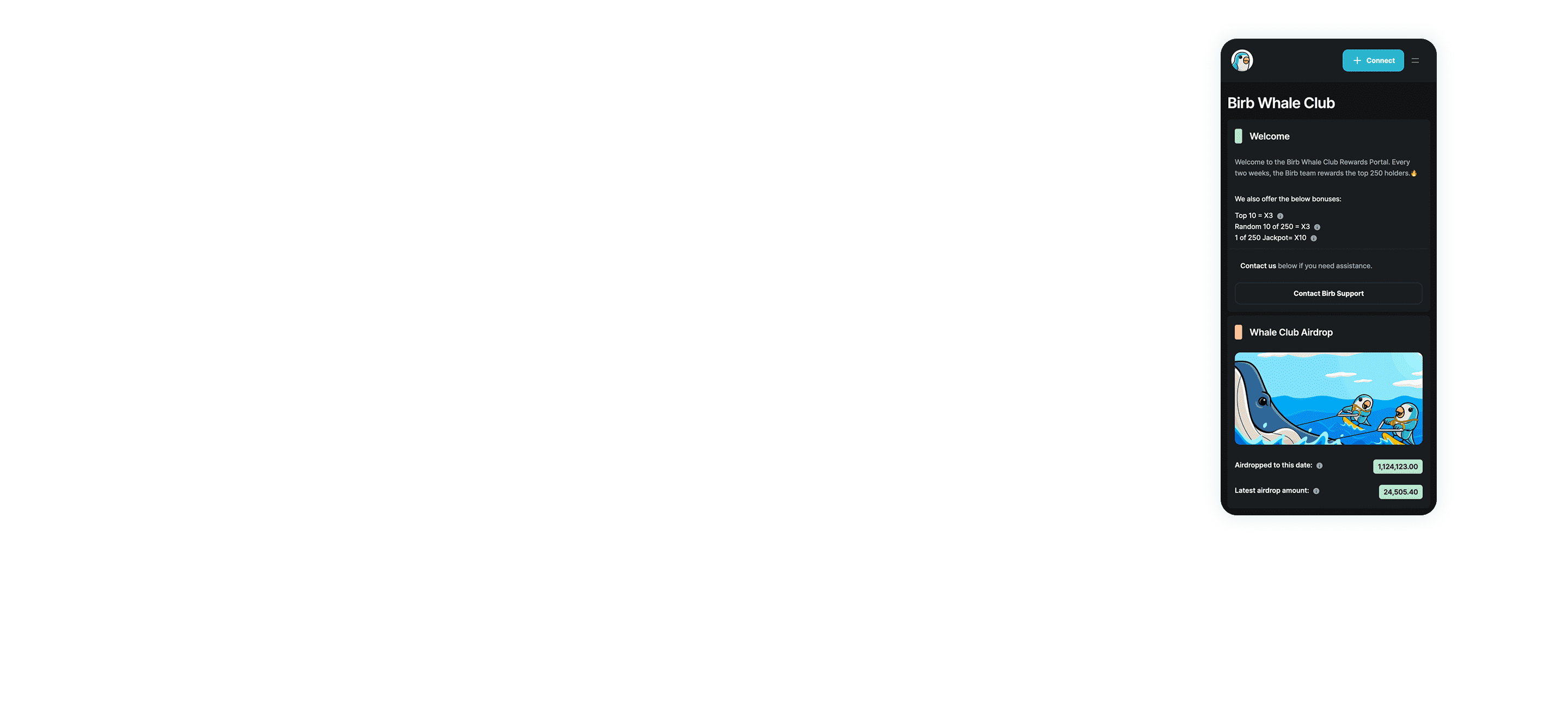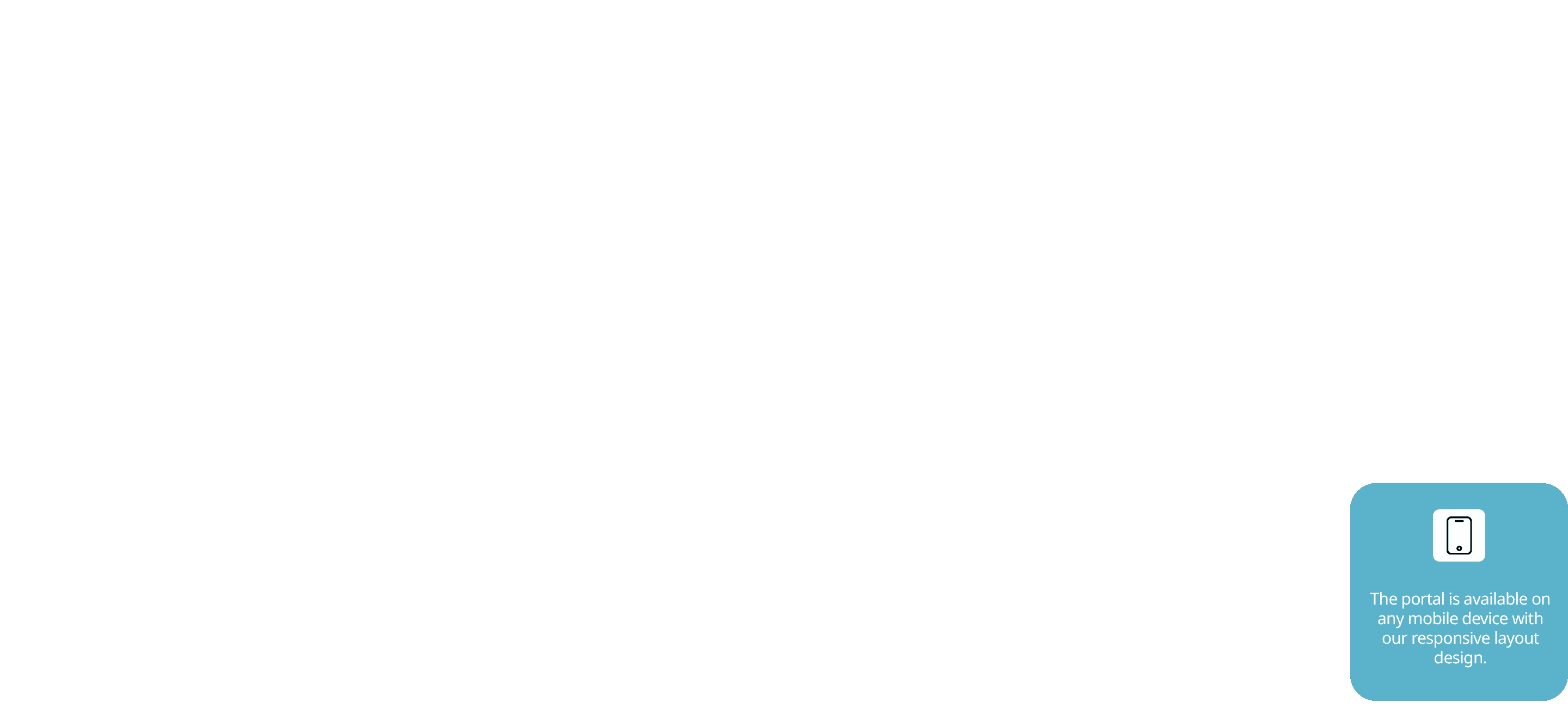 Birb NFTs
Beautiful artwork with several use cases
Birb NFTs allow you to enchant (upgrade) the rarity of your NFT. Birb NFTs have five rarities. Common, Uncommon, Rare, Epic, and Legendary.
When you enchant a Birb NFT you are upgrading the NFT of your choice. You will, however, need to sacrifice one NFT in order to enchant the other.
Enchanting will also increase the staking points. The higher staking points you have the more you will earn every week.
Every week on Wednesday, we refill the pool with BIRB and BNB. The higher the rarity of your NFTs the more you will earn.
Below is how many staking points each rarity has:
Common: 5
Uncommon: 10
Rare: 25
Epic: 55
Legendary: 120
Birb is developing a unique pool only for NFT holders. The higher the rarity, the higher the reward. We plan to have several use cases for our NFT holders, including other web applications strictly for Birb NFT holders.
We are proud to announce that our conceptual artist and our lead artist are currently finalizing a new collection of Birb NFTs.
Our NFT developer made it possible for current Birb NFTs to be upgraded and playable on BirbBattles, our upcoming NFT game. You can battle your NFTs with your friends and win BIRB tokens. You can also team up and fight a Birb raid boss and earn BIRB tokens together.
There will be 5 classes available. Fire, Air, Earth, Water, and Arcane. Each BirbBattles NFT will have the following traits HP, Attack, Defense, and Speed.
Echanting your NFTs stats will also be available. This will allow your stats to improve making it possible to win more battles.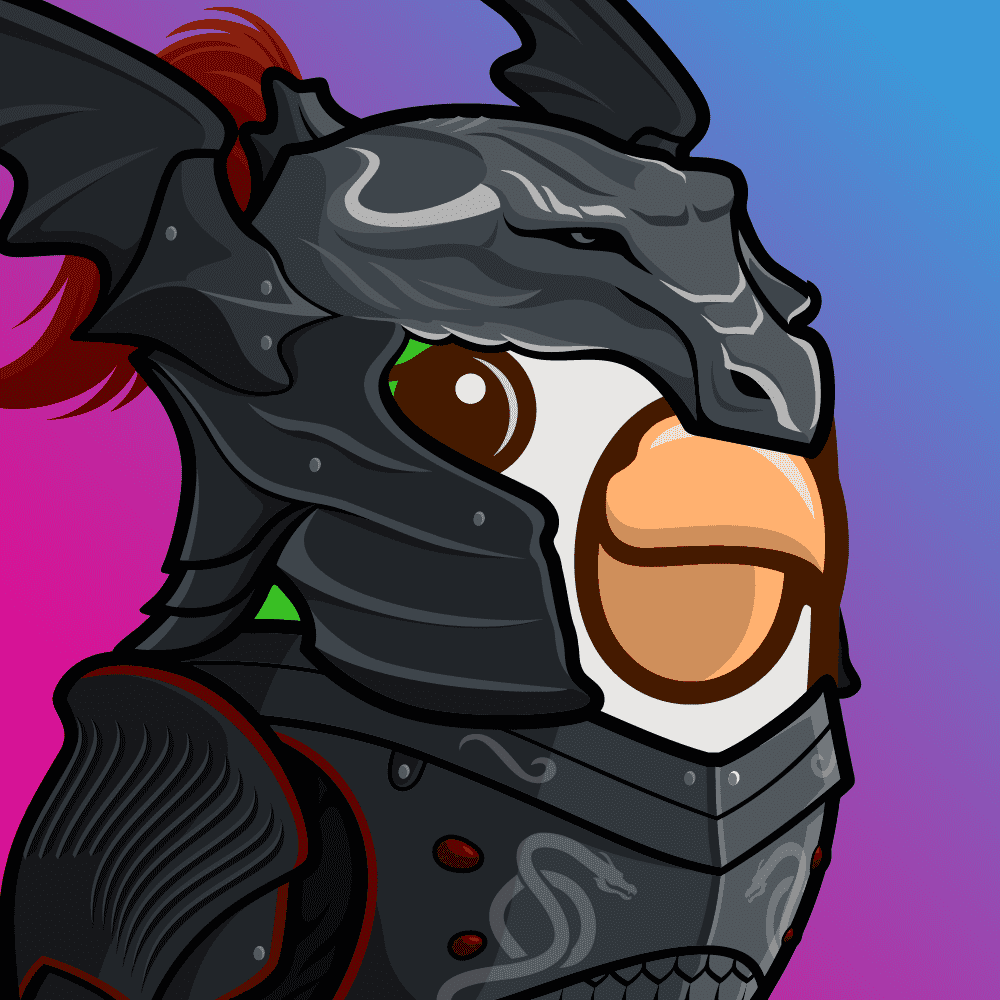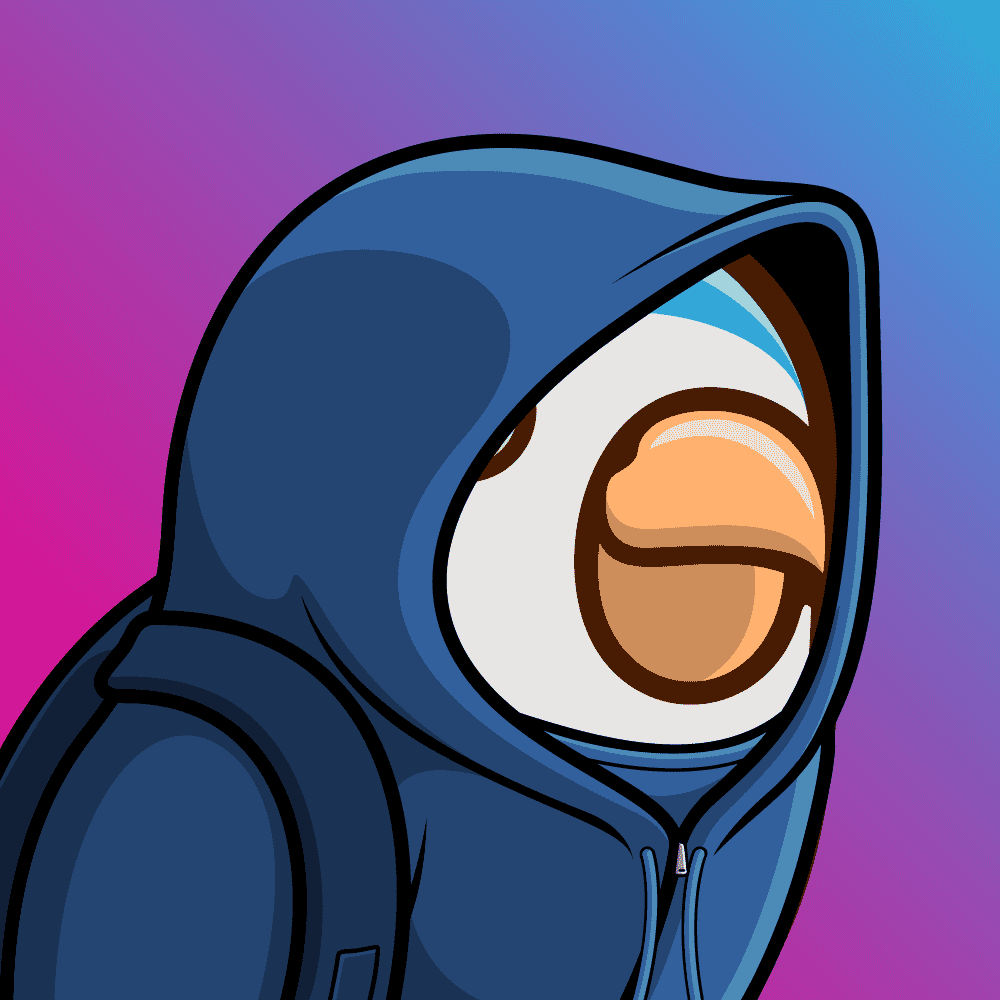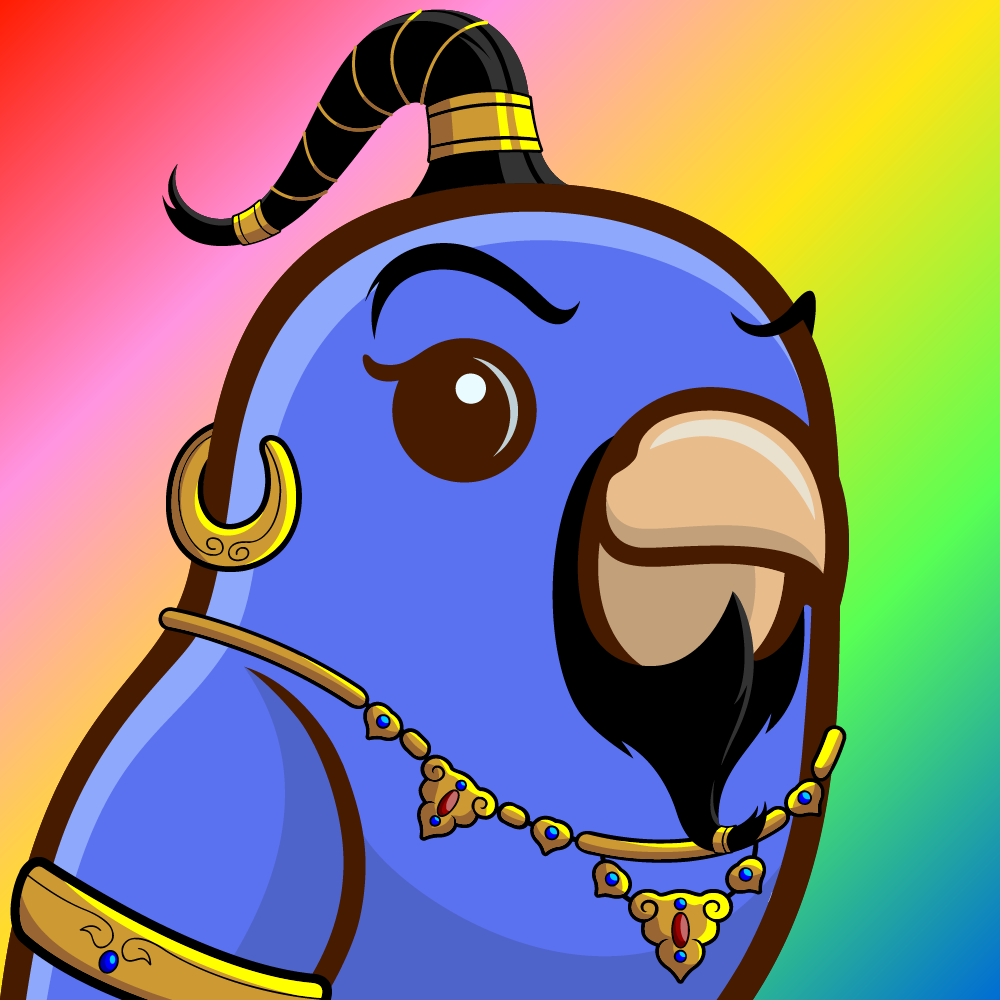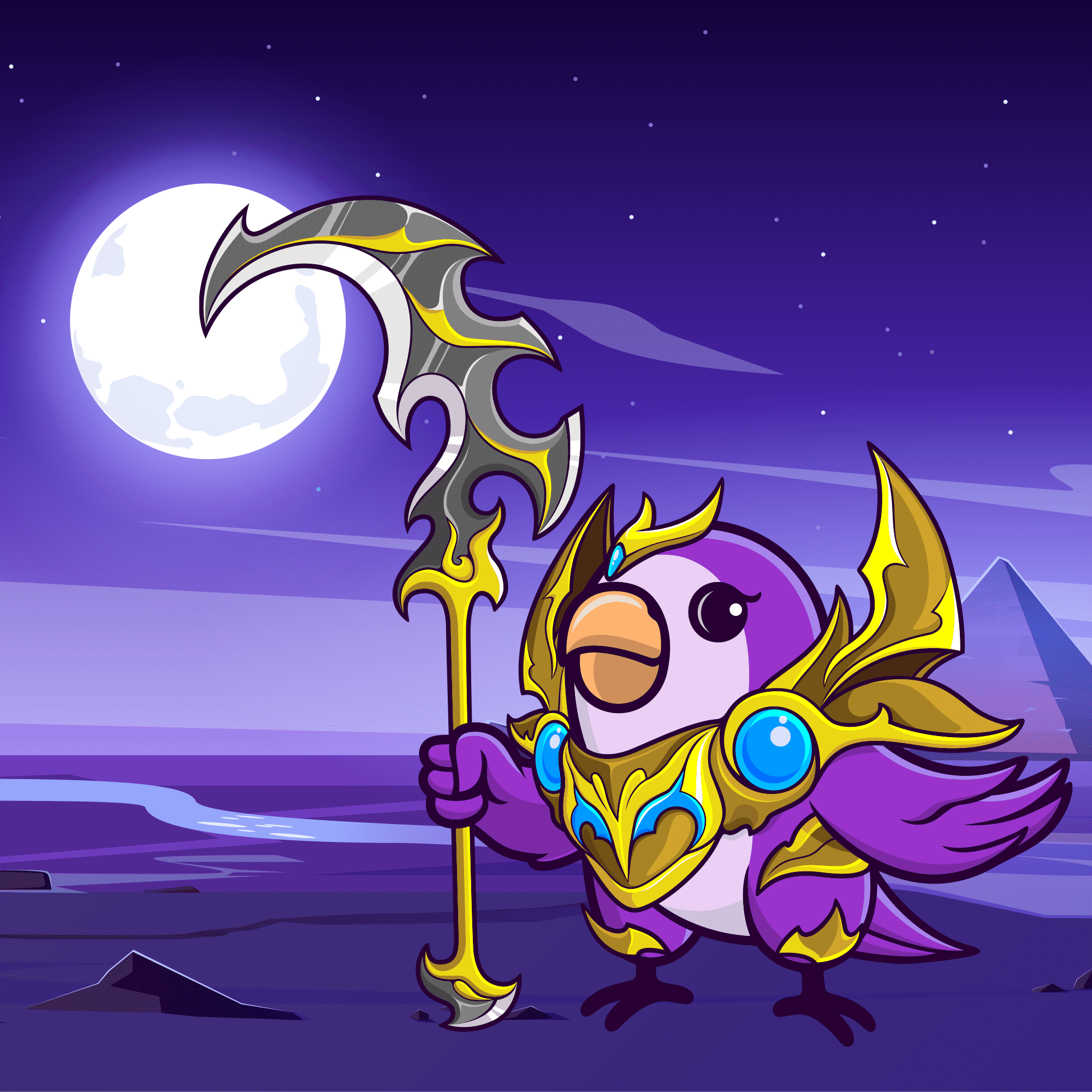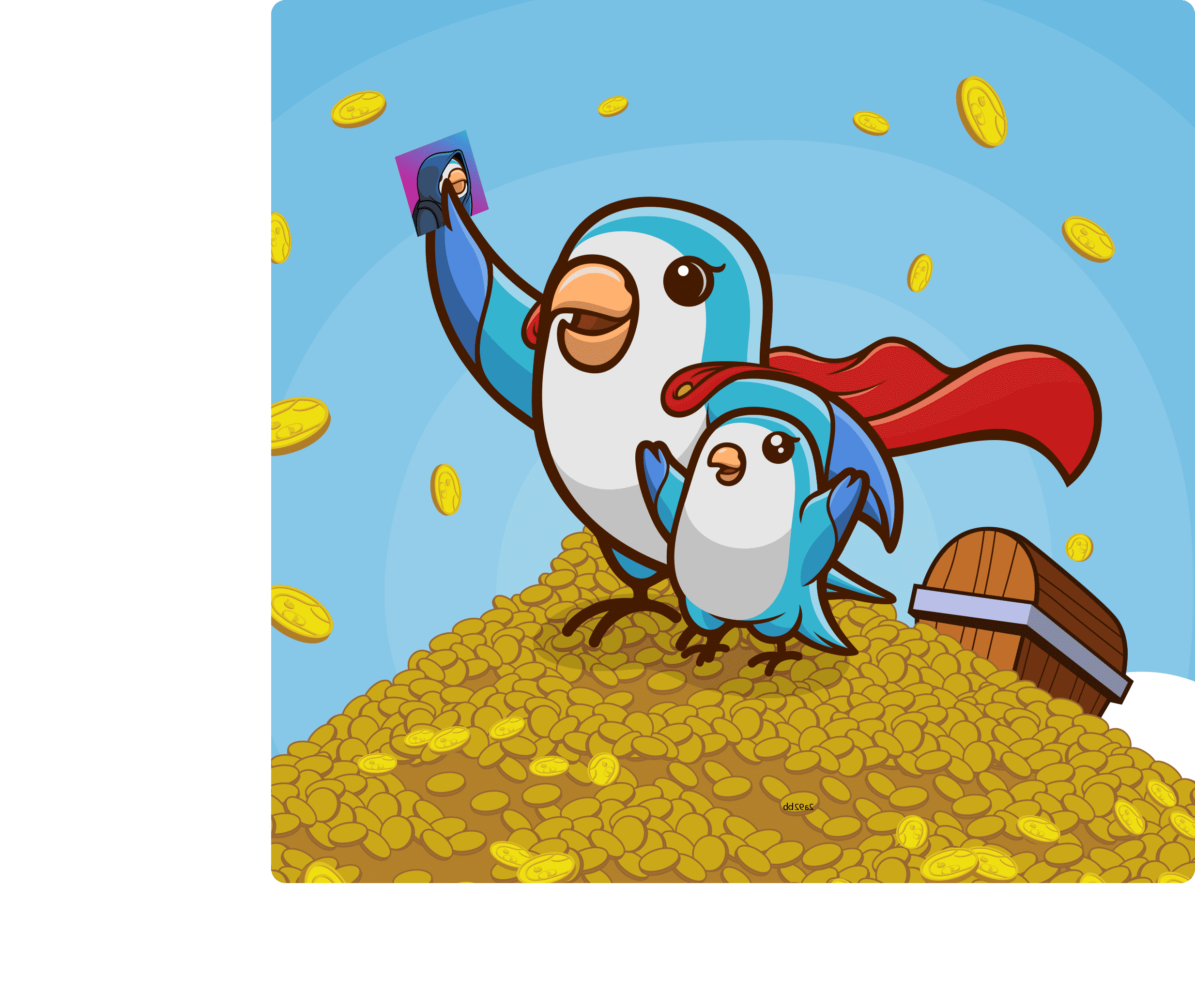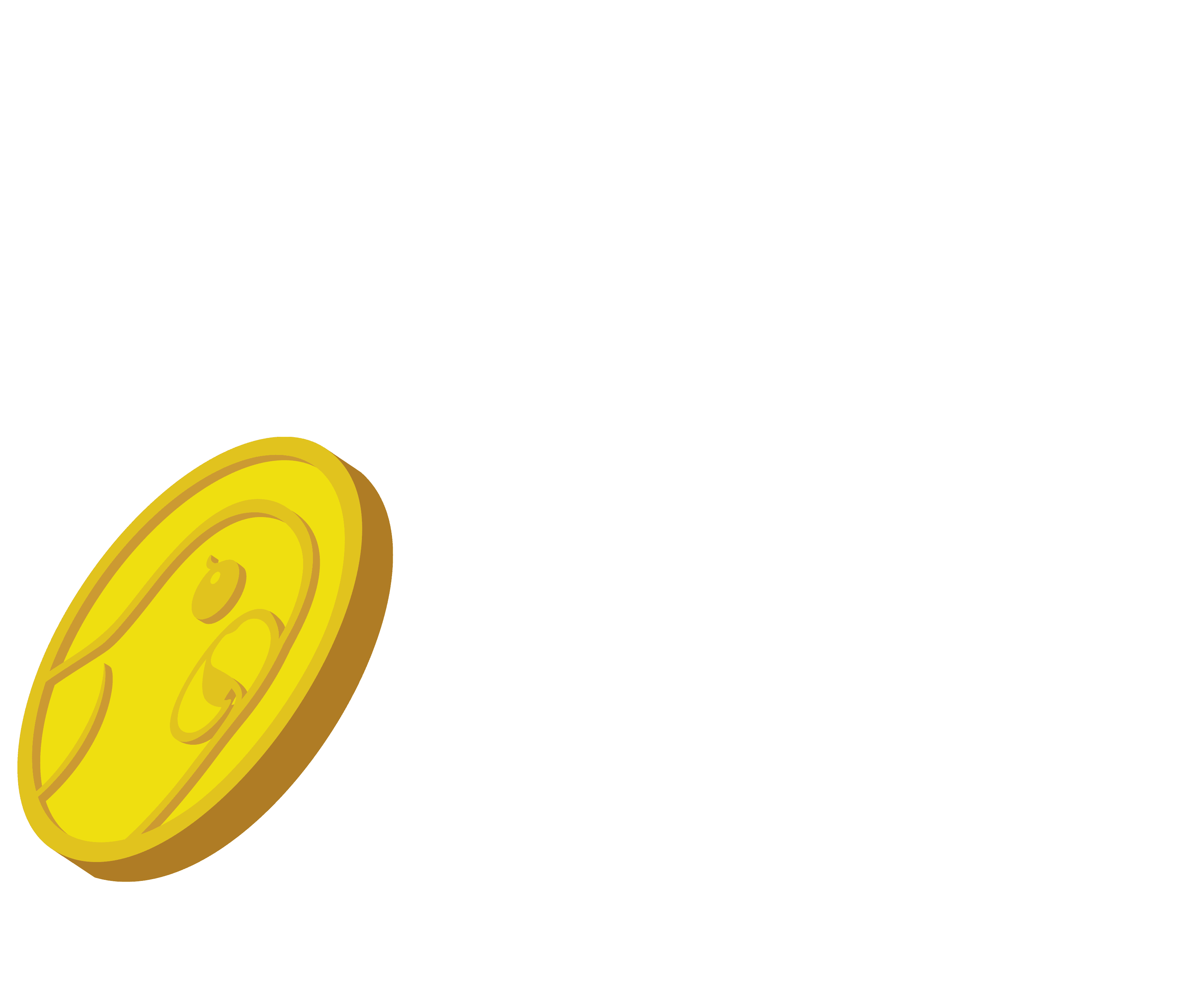 Elevate Your Staking Experience with
Birb NFT Boosts
Unlock the potential of sophisticated staking solutions such as advanced time-locked vaults, open pools, liquidity pools, and more.
Amplify your rewards with Birb NFTs, as our vaults provide additional percentage boosts based on your NFT's rarity, ranging from 1% to 3%.
Get ready for the future of staking!
Flock Protocol: A New Era in Privacy
Secure, Private Transactions with Our Innovative Web App